Bookkeeping and Accounting to Help Your Business Prosper



Do you know where your money is really going each month?
Ready to hire more staff but aren't sure if or how you can afford to?
Do you keep a pile of receipts to give your tax "guy" once a year?
Ever been "surprised" by tax penalties?
Take control of your business finances.
Use your time to focus on building your business.
No more surprise penalties or interest.
Consistent monthly accounting provides for accurate planing.
At Bengtson & Associates we know you have goals – hire more staff; buy the bigger truck; move into a larger building. Or send the kids to college; take your spouse on the dream cruise; or just stop worrying about paying bills. And in order to do that, you need to know and understand your monthly income and expenses. Trying to do that yourself can be overwhelming.
Working with Bengtson & Associates means you don't have to stress. With our years of experience helping business owners we know what it takes to make your goals – whatever they are – come true. And our expertise in resolving tax compliance audits, means your business taxes will be done right the first time.
We're always working for you. When the Paycheck Protection Program (PPP) became available during the COVID-19 pandemic, we were in immediate contact with our clients to help them figure out the pros/cons. If they applied and got the funds, we continued to answer questions about the necessary steps to navigate the forgiveness process.
Every successful business owner should understand how their business makes money and where that money goes. You don't have to grasp the intricacies of bookkeeping to get it – you need a trustworthy and reliable accountant to work with. You need Bengtson & Associates.
Over 45 years of combined experience
Certified Public Accountant (CPA)
Whether you are a new or established business, get the right accounting strategy for YOUR business.
Income statement
Balance sheet
Reconciliation
Invoicing
Manage Cash Flow
Employee Payments via Automatic Deposit
Tax Filing (State & Federal)
Tax Deposits (State & Federal)
Review to maximize deductions
Identify Potential Audit Issues
Preparation
Electronic Filing
Tax Strategy & Planning
STRATEGIC BUSINESS PLANNING
Analysis and Strategy for Growth
Succession and Retirement Planning
Trouble Shooting
Review Current System
Minimize Tax Burden​
Initial set-up
Review
Answer Questions
Education
Your "Help Your Business Prosper" plan:
Schedule a meeting and tell us about your business goals.
Get the right accounting strategy to meet your goals.
Stop stressing about your bookkeeping every month and watch your business thrive!
Angie Zieg
"A few years ago, we were once again shocked by late filing fees, HUGE interest penalties and large amounts owed to the IRS. It was hours from when our return was due and I didn't know if anyone could help! Bengtson & Associates returned my call promptly, listened to my issues and found time to go over a year's worth (and then some) of documents. They managed to get things straightened out and informed us of the many things they found alarming. Now our taxes are done well before the deadline, no more penalties and we feel like there is no better accounting firm for business owners."
Angie Zieg
Anand Rau
"We talked to other accounting firms, and even tried to work with at least two others. We were too small for one firm, and they treated us as a "bother" – just a revenue source. The other, a prominent firm in Lincoln, was downright adversarial – they'd pat me on the back and charge me for a massage! The peace of mind we have in knowing that Bengtson & Associates will keep our financial house in order lets us focus on the business. We have steadily grown over the years, and their expertise and knowledge has helped us marshal our assets and resources astutely."
Anand Rau
Patrick Stolzer
"I was overwhelmed and angry from the incompetence of the last accountant I had. But Bengtson and Associates are very professional and I feel they have a personal interest in my situation, I don't feel like just a number."
Patrick Stolzer
C. Dunham
"I was overwhelmed trying to understand the pros / cons of LLC vs S-CORP + tax filing. But Bengtson & Associates didn't make me feel awkward for asking questions. My business wouldn't be where it is at today without the ongoing help of Bengtson & Associates."
C. Dunham
Jack & Tina Doerr
"Our previous accountant messed up everything, and when I say everything I mean everything. We were so angry and felt violated when we found out that everything had been done wrong. You are supposed to trust your accountant. Bengtson & Associates were able to fix everything for us. We have had multiple accountants and this is the first time we've felt we were getting results…actually getting paperwork done correctly. Our business is thriving. No more fear that paperwork is done wrong."
Jack & Tina Doerr
9 Questions You Need to Ask Before Hiring
an Accountant or Bookkeeper.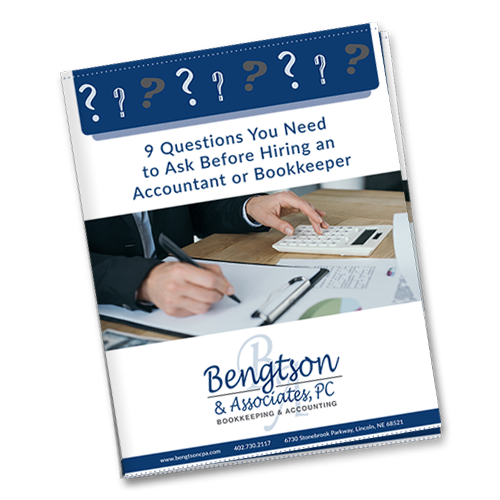 Download our free PDF and get your business on the right financial track.
Our Promise:
We are as dedicated to your business success as you are.
You may be used to working with a "one and done" accountant. They're the ones you see once or twice a year. Once when you drop off your shoebox of receipts and then again when you sign your tax return.
That is not Bengtson and Associates. We are committed to helping your business prosper throughout the year. From questions about big purchases or a tax write-off, we're always just a phone call away.